Our principle is "Customers first".
Sales memebers provide the best service selecting from ocean, air & road transportations which is
the most suitable way for you.
We also can coordinate any transportation plan for your demand.
Please feel free to contact us anytime, quotation or consultation is free of charge.


Accurate and speedy declalations to get approval from customs for your cargoes.
Over than 50 years of experiences and various knowledge, we can arrange customs procedure quickly
and timely. Customs clearance staff in YSU, all of them are registered as customs specialist
and passed national examinations.
Other related laws and regulations such as Food, Phytosanitary, Animal quarantine applications,
we can arrange to get approval all of them smoothly.
We, Yokohama Shosen Unyu comply with customs law, Seki Tooru Law and other related laws and
regulations. We execute our business as customs broker faithfully following company ethics and
common sense.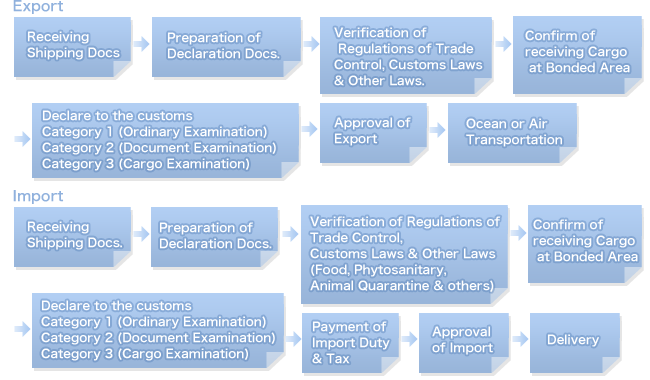 Full support for customers with worldwide network.
We respond for your demand by experienced staff and our own transportation network throughout
main cities in China, Asia, USA and Europe.
We provide you wide variety services such as ocean, air, door delivery, triangular shipments and etc.


We have confidence to provide you safety, reliable and quickly service for your precious cargoes.
Following comments are from our Customer Service staff members;
・We provide you the fastest service throughout customs clearance to delivery.
And we offer you the most suitable transporation method which with reasonable cost. (by T. O)
・Our CS team get reputations from our customers by providing the reliable & safety transportations.
(by T. S)
・Currently running matters, future planning matters, please feel free to consult with us. (by O. K)
・We carry your important cargoes by various methods, Land, Ocean & Air as global logistic company.
(by H. K)
・From small to big even for dangerous goods, we can advise you the best way to take. (by K. I)
・We offer and provide you the best way for your demand with our wide network. (by H. T)
・We can find the best way of transporation or warehousing on your requirement. (by K. K)
・Please do feel free to contact us and we sure serve you the best global transportation. (by Y. N)
・We're looking forward to have your inquiry and provide you the best solution for your transportations.
(by M. N)
・We handle your cargoes with extra care and good response. (by S. M)
・We provide you the best "hearty" service on your demand. (by M. H)
・The meaning of "CS", C = Challenge & S = Spirit, that is us! (by Y. I)


Information Systems is the essential factor in the current logistic industry.
We, YSU has been proceeding to improve our systems.
Our effort on this for "participation, application & administration" all the informations efficiently.

Sea-NACCS is the computer management system for declaration procedures of importation/exportation for
ocean cargoes. It's established in October, 1991 and it's revised as new system in October, 2008.
The new system is available for checking vessels' arrival, disembarkation, import declaration & receiving approval
of the declaration. It's also available to check the cargo status which are brought in bonded area, export declaration
and approval, embarkation until vessels' departure.
All the customs procedures and current cargo status are available to check by this on-line system.
We installed this system at the same time when it's started.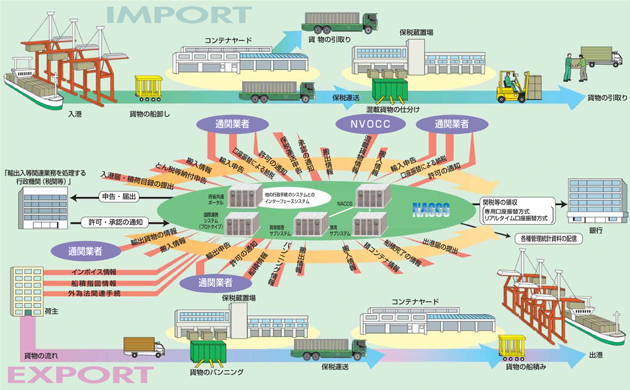 (輸出入・港湾関連情報処理センター㈱ホームページより転載)

We installed "SUPER BAY", Cargo Data Management System which was developed with Obic Co.,Ltd in December, 2004 and are working on improvement and accurately data management of the cargoes. Each one of the shipments are managed putting in the system and sharing the data in head office & branch office. It's revised in December, 2009 and will be improved whenever necessary.

We installed "DocuShare" system which was developed by XEROX to manage all the record of shipments without papers. It makes us easier and faster to reply to any inquiries from our customers. Customs brokers must keep all the related documents of the shipments for 3 years following the Seki Tooru Laws. We can reduce cost & space of storage documents by using this system and it's under strictly control of all the records to protect the data.


Japan Customs

Ministry of Health, Labour and Welfare

PLANT PROTECTION STATION

Animal Quarantine Service

METI Ministry of Economy, Trade and Industry